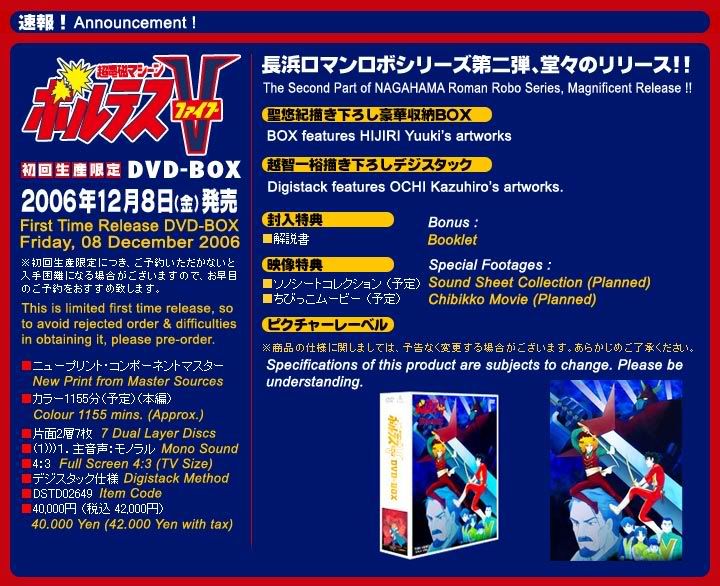 It's confirmed. An original Japanese DVD release of CHOUDENJI MACHINE VOLTES V will come out in Japan this December 8, 2006! The Region-2 DVD box set will retail for 40,000 YEN, which is roughly abour Php17,000. Preorders are already being accepted in some Japanese online stores as early as now.
I am definitely going to save up for this, either get someone to buy it for me or do it myself. Recently, I managed to finally buy the LASERDISC set and this original DVD set will become a welcome addition to my collection. I might also buy the CHOUDENJI MACHINE COMBATTLER V DVD set.
I know someone who is so crazy about Voltes V, he bought three of the Soul of Chogokin Voltes V when it came out. I have to admit, I feel the same about the original video, although I won't be buying 3 copies for myself LOL
A short thread about this release is already existing in Robot-Japan, and a member is already mentioned that he is waiting for the bootleg release of the DVD with English Subtitles. I don't know if he knows, but I already released such a version and sold it in auction sites for over a year. In fact, it has been bootlegged by just about anybody and a machine pressed version has already been made and is being sold in Quiapo and Makati Cinema Square! A Filipino has even made it into a batch torrent and anyone with broadband can download it for free.
This proves just how pathetic majority of Filipino Voltes V fans are. These people are usually bellyaching to sellers online about why bootleg DVDS of Voltes V are all over the place, but they themselves prefer bootlegs over originals! An original release is finally coming out, but these guys are just waiting for a bootleg or downloadable version to come out. I bet only a handful are going to be lining up to buy the original DVD. It is truly pathetic and it is for this reason why I find Filipinos in online auction communities to be unreasonable and intolerable.
To you Filipinos who are always giving sellers crap for selling bootleg DVDS of Voltes V, well I challenge you to put your money where your mouth is. Get in line (or online) and buy this DVD set for about $400. You're looking for originals, aren't you? Well here it is and it's coming out in December!